External Links
Search the Archive
By month…
KONK REACTOR column
[Published in the KONK Life newspaper on February 14, 2013.]
Cable TV's Nightmare
You hear a lot about the Xfinity vs U-verse war, and DirectTV and Dish skirmishes.  But Big Cable's real enemy is IPTV ("internet protocol television").  TV that doesn't NEED cable (other than to carry internet).  Last year 1.5 million more people cut their cable & satellite than signed up, and this is growing. Recently my household joined those ranks.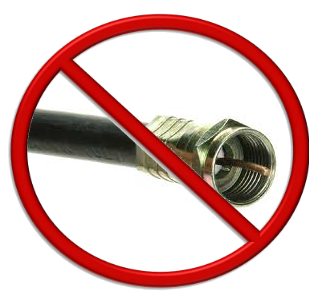 I was already getting antsy about the rising cable bill even as I got more of my entertainment through other, uhhh, channels.  Then this year's annual price boost added new monthly charges for the two little "free" boxes Comcast had given us when they'd taken away direct access by other TVs in the house.  It was the last straw: Bye-bye, Xfinity!
Now we're loving the $90+ reduction in our monthly Comcast bill, while our Playstation takes care of family room "TV".  And with our first month's savings, I bought some cool hardware to replace  boob-tube programming on one of our other TVs.  Once I've refined the system, I'll do it again for the guest room TV.  So no monthly hardware charges. (Note that we'd bought our own cable modem long ago – for less than a year's fees to use the Comcast one!)
Folks outside the Keys who do this have an advantage: they can still get a few channels (in some areas quite a few) by connecting a simple digital antenna. Each local stations now has THREE digital channels over the air. But down here at the end of the road we don't have broadcast TV. Iit's pure internet for us.  And that's okay!
After a little time you won't miss cable at all.  An $8/month Netflix subscription redresses network TV programs and movies.  (One account works on several TVs and your smartphones). You won't get all of the shows, and not many from THIS year, but you'll find shows you'd wanted to watch before. And you watch them at your own pace. We immediately watched the full run of Firefly. we've started The West Wing and will probably begin Breaking Bad soon. And NO COMMERCIALS!
Add Amazon Prime to fill in some of the blanks (e.g., we're watching Falling Skies on it).  Its annual fee gives you free shipping on most Amazon orders (which here in the Keys is a way of life), so the free streaming shows are a nice bonus. Also: NO COMMERCIALS.   I'm not a big fan of Hulu because they do force you to watch ads (can't fast-forward), though they do run some of the more current stuff.  But we've weaned ourselves off needing that.  Unlike Hulu's $8/month, there are FREE services (like "Crackle") that include ads.
To satiate your channel-surfing thirst, there's none other than YouTube.  You'll be amazed at all the cool stuff to surf through there, yet looks good on your big screen.  I've subscribed to a bunch of interesting YouTube channels to spend a few minutes (or hours) digesting…
News shows are a different story.  I've had trouble reliably streaming USA news providers so far, but I expect to overcome the issues involved (perhaps by the time you've read this). Right now my favorite easy-to-access news source is Aljazeera! They have great coverage worldwide, including the US.  They're very much like CNN before it dumbed down.  Check it out!
Running out of space, can't much get into Sports programming.  Events aren't so easy (but I personally don't miss it.)  This is an area that could be a deal-breaker for some folks – or you could spend more time in Sports Bars to make up for it.
I had mentioned "cool hardware stuff" up above, but no room for detail now. In the near future I'll do a Geek Speak on system set-up to access all this stuff. Think "using your TV like your smartphone…"
No Comments