External Links
Search the Archive
By month…
KONK REACTOR column
[Published in the KONK Life newspaper on February 16, 2012.]
People On The Street
"There but for the grace of God go I."
Could it happen to you?  Many who are in that boat never thought it could.  But unless you have very generous friends or family, you just might be one accident or illness or lawsuit away from living on the street. That guy you passed on the sidewalk yesterday certainly was. He never thought HE would be homeless one day.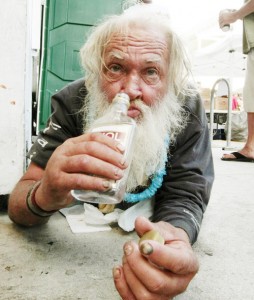 I'm NOT a "bleeding heart" liberal.  But I am extremely sympathetic when it comes to people down on their luck.  I might not give them the change from my pocket, but I will fight on their side against those who want to kick them when they're down.  It's really the right thing to do, and it's also a matter of Karma, because it COULD happen to you — or me.
An old Army buddy of mine had skills, a decent job, a small happy family and a decent house.  Drank one too many one day, crashed his car, drowning his wife and kid and maiming a bystander.  Lost his job, and soon after, his house. He never expected he'd be on the streets.   It's that "easy".
Are there people on the street who are lazy and unwilling to help themselves, ready to take advantage of the good will of others?  Undoubtedly. But can you tell the "freeloader" and the mentally ill apart?  Are you willing to punish the hapless guy who's trying to make it, or the shell-shocked veteran, just to make sure you don't accidently give aid to a "bum"?
As a prime destination for the housing-challenged, Key West hosts more than its fair share of the homeless population. Anyone who's lived on the Rock long enough knows how much stress this excess can have on our island.  Back around the turn of the century, removal of encampments in the protected mangroves was a regular story. The "Bridle Path" across from Smathers Beach (as well as several other areas) was strewn with makeshift campsites.  Something had to be done, and something WAS done: the City took Neil's advice from his "People on the Street" song, where he sang "People on the street, need a place to go".
Quickly (perhaps too quickly, from a permitting point of view) a Keys Overnight Temporary Shelter (KOTS) was born, on the property of our County "detention center" (jail) on Stock Island.  It provided that "place to go" each night for about 150 with no place else to legally sleep.  More importantly, it provided the City with a legal basis for disallowing the tents and sleeping hovels the homeless had been using on various public properties.  The courts had held that we can NOT just run a homeless person out of town for sleeping on public ground – we HAVE to make sure that they have an alternative.  With KOTS they do.  So now, if you're sleeping in an alley, you can't claim a "right to sleep here" violation when challenged by the police.
On the same token, the courts have struck back at municipalities that try to enact an outright ban on begging.  This is clearly a free-speech issue. You cannot order people to only speak what you want to hear.  However the courts have held that you can regulate such "pan-handling" by limiting it to certain areas.  As long as it's not outright banned, and the areas are not completely isolated, you can regulate speech.  And so again, this is what the City has done.  Perhaps the currently defined "boxes" aren't enough to withstand a court challenge, but the City is  on a track that they feel can be defended.
The worst thing we as One Human Family can do is to adopt a total NIMBY ("Not In My Back Yard") attitude.  Certain communities are trying hard to interfere with facilities to help our homeless brethren get through their transition back to productive lives.  Anonymous posters to the Voice and other forums call for total bans on begging anywhere – and even loading up homeless on busses for a forced ride out of the Keys.  Others decry soup kitchens, implying that having to hike miles to stand in line for your next rudimentary meal is some kind of a free ride.  What planet were these incessant whiners born on?
I have no doubt that the whiners will be the first in line at the soup kitchen when THEIR fortunes turn. You and I could be there right beside them.