External Links
Search the Archive
By month…
KONK REACTOR column
[Published in the KONK Life newspaper on August 16, 2012.]
The Beast, part 2: Face of the Beast
In my last column ("Facing the Beast") I related my encounter with Christopher Cornelius Farrell, as he was attempting to cut off the head of a three year old girl on a William Street sidewalk.  But who is this guy?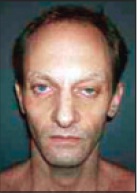 I can find no record of when Farrell first showed up in Key West.  But by the early 1990s — in his late 20s — he was ensconced in the two story building at the corner of William and Southard Streets diagonally across from the big Albury house (now being restored after the death of the last Albury, Bonnie). Farrell seems to have always been unemployed – nobody seems to know how he could afford the place.
In the summer of 1993 Farrell went to court on a Trespassing charge and was adjudicated guilty, but received a deferred sentence. The following winter he was charged with loitering or prowling, but wasn't prosecuted. In 1997 and 1998 he was arrested and found guilty three more times for criminal mischief and indecent exposure, each time receiving deferred sentences. This pattern was to continue up until the dark episode in October of 2008.
After the turn of the century, in 2001 he was arrested on "Touch or Strike" and "Aggravated Stalking" charges.  He was ultimately charged with 3 "Stalking" charges (not "aggravated") and a battery charge.   A competency hearing was ordered and he was deemed competent to stand trial, where he was declared guilty.  But apparently he was sentenced to time-served plus probation, and released.  A year later he was arrested on violation of probation, but it's not clear what came of that.
In 2004, after a police visit over loud Christmas music, Farrell called 911 and threatened to kill all of the cops at the station.  Result?  An arrest for misusing the 911 system.
Neighbors talk about how he'd sit naked in a tree drinking beer.  How he'd throw rocks at passing cars and bikes in anger over their disturbing tadpoles in a puddle.  And worse, he harassed women and girls who lived or worked in the area.  Neighbors tried without success to convince officials to do something about him.
One woman, who worked at a nearby guesthouse, filled a stalking complaint and he was arrested again in 2005.  There were a number of court appearances spread over the following months.  But once again, he was released and not prosecuted.  Apparently during this period the woman who'd filed the complaint had decided to leave town, stifling the prosecution.
Which brings us to 2008…  At this point, The Rodriquez family had moved into the upstairs apartment of the building where Christopher Farrell lived, having heard nothing about him.  At one point Juan – the father of the young victim – crossed paths with Farrell and tried to make small talk.  But Farrell ran away and locked himself inside his downstairs apartment.  That was apparently the family's only direct contact with Farrell until the day he went off the deep end…
On October 1, 2008, Sonya Rodriquez and her daughter were walking back to their home, but before they could go up the stairs Christopher Farrell came out of nowhere and grabbed the young victim and began to try to force the razor sharp tree saw blade against her neck. The brave girl clinched her head against her shoulder, impeding the blade long enough to give her mother a chance to momentarily distract Farrell.  And for a passing bicyclist to get involved. To this day I marvel at the timing: Just 30 seconds later and I would have already passed by and not heard the scream.  Or just 30 seconds earlier and the blade may have already done its vile deed before I got there!
I will wrap up this story in my next column, "Caged Beast", giving an update on what has happened to Christopher Cornelius Farrell since his attempted-murder arrest.  It gets stranger and stranger…
(Post Script: A coda to the story has also been written: "Trial of the Beast".)
No Comments