External Links
Search the Archive
By month…
GREEN Reactor column
[Published in The Blue Paper newspaper on June 7, 2013.]
GREEN Reactions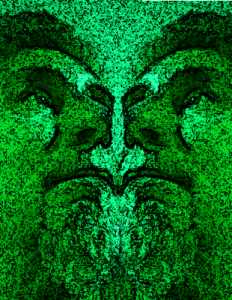 Over my years of writing for various Key West newspapers, from time to time I have found that I could not restrain myself from responding to anonymous blabbermouths (like me, sometimes) who post their  (usually anonymous) thoughts to local forums like the Voice, local Facebook pages, website comment sections, etc. Thoughts they express with such vigor that one would think they considered themselves experts on a topic.  They're thoughts that cry out for a second look.
Once again I am at that juncture.  Following are representative of statements made recently in those kinds of places, selected here because of their emphasis on GREEN issues.  Naturally my reactions follow in each case….
"So Key West wants to go to garbage pickup once a week. Are they crazy? Has anyone thought about how bad the garbage is going to smell?"
Uhhhh, do you think that maybe – just maybe – the people who have been studying and implementing programs like this for decades just MIGHT have noticed that garbage does tend to deteriorate over time?  Even if you assume city staff and the experts they hired to perform this study of how to improve our solid waste management are thick enough to be unaware, do you think all the other towns that are on once-per-week pickup are oblivious, too?  Oh wait, we're unique here – our trash must be stinkier than anyone else's .
Seriously – worst case: the trash will sit a few extra days.  In a closed lid container.  Inside a trash bag.  It's not that big a deal. If you have something extra stinky on occasion, wrap it up first.  Yeah, there will be a few who clean fish the day after the trash was picked up – they might have to take care of getting it disposed of another way.  Something may need to be worked out for that tiny percent of what's to be hauled.  But for all the rest of us, having the noisy trucks out there just ONE TIME each week is a blessing.  And it'll cost us a LOT less.
"Anyone who believes so fully in the merits of solar energy can and should cut the cord with the electric company and install a solar system. Interestingly, few if any of those vociferously supporting solar on No Name Key have ever done so, and probably never will. It is that very hypocrisy that is so detestable."
By that logic, one is a detestable hypocrite if they support green space in their town but don't turn over chunks of their yards to make a public green space.  Or support organic food production but don't grow their own.  Or want to see more bicycle-friendly streets but don't get rid of their car.  There's nothing hypocritical about supporting a good cause, even when you yourself are not able to fully meet the goal of that cause under your current circumstance.  You're supporting the greater good, which is goodness in itself.
Of course the REAL reason for casting the hypocrisy accusation around is just to justify one's own overtly negative actions.  Like buying a home completely clearly known to be in a solar community, with the overt goal of turning around and obliterating that community.  (Say hello to the inevitable posts in the response section below from the No Name Troll, who will now stomp his feet and whine away about how "people can do what they want with their own property" and  other standard angry-white-guy stuff.)  Karma will eventually catch up to those who take advantage of a community, and there's nothing hypocritical about pointing that out
"I say 'yes' to the channel widening study – let it happen. If the tree-huggers don't like it, they can kill each other off.  Then they won't breathe the air, burn gasoline or pollute the ground. The real problem is population."
Other than the final statement, this makes no sense at all. KILL each other if they don't want the first step toward dredging the channel to happen?  Ohhh, I think I see, this was probably originally going to be a "I'd like to kill the tree-huggers" comment, but the writer had the sense of mind to realize that saying it that way would label him as dangerous, so he changed it to "kill each other" so as to only be offensive, not threatening.  Nice job…but silly.
Yes, the base problem on our Earth is over-population.  But you know what slows population growth?  Having a healthy middle class.  Virtually every country that cleans up their act and stops treating their citizens as a cheap labor pool (something many of the 1%ers in America would like to return to here) ends up with slowed population growth.  Even China, in those areas where they've ALLOWED a middle class to develop.  But what any of this has to do with the channel dredging issue is impossible to fathom.
"Those who want to keep the top at the La Concha open to the public can buy it and do what you please with it. Otherwise, keep your nose out of their business."
Wow, such anger over an issue that doesn't affect the commenter one bit.  (Unless it's written by a stooge from the big Dallas corp that owns La Concha….but that's doubtful.)  Why is this guy taking the effort to contribute a comment like that?  He can't stand it when his neighbors take their visiting out-of-town family up there to see the 360-degree view of the town?  He wants to feel like he's Donald Trump getting all "you're fired" with us?  He's mad because his dog kicked HIM this morning and he's having an inferiority complex reaction?
Perhaps it's time for a few of us to get a life….just be sure to make it a GREEN one!
No Comments