External Links
Search the Archive
By month…
KONK REACTOR column
[Published in the KONK Life newspaper on December 20, 2012.]
Rebel Yell
At my home away from home in the mountains of North Carolina the old Confederate Battle Flag sore has begun festering again.  Probably not so coincidental to the Tea Party bloom in that state — which was "purple" before going solidly "red" this last election — the flag has been appearing at public events lately. Those who fly them have convinced themselves that the flags are just "southern heritage" and refuse to accept the offense it brings to so many.
They just don't see the correlation of the "Rebel Flag" to the flying of Nazi flags, possibly because many of them think of the Nazis as "enemies" anyway.  But the fact that the Nazi genocide against Jews and others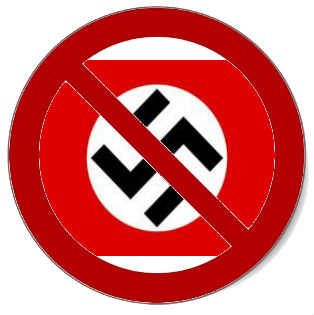 was horrific SHOULD be enough reason for ANYONE to shun the Nazi symbols.  And yes, today's Germans, to whom the Nazi flag also represents some of their "German heritage", have outlawed it.
In America the Rebel Flag clearly represented the effort to maintain the atrocity of slavery. It deserves no respect.  No matter how many times a southerner claims it's just about southern heritage and not about racism, they're not kidding anyone. They all KNOW that it deeply offends most Americans who are descendents of those who were bought and sold as less-than-human. But they think those people should just "get over it" so that they can pretend to be a "rebel".
I've traced my Lybrand lineage down from arrival in Charles Town (now Charleston) before our nation rebelled against England.  Six generations lived their lives out in South Carolina before my descendants migrated after the Civil War down through Georgia to Florida.  I also have seen records where at least one of my ancestors – Levi Lybrand — owned slaves.   Many South Carolina Lybrands fought under that battle flag, and one of my ancestors – Levi's son – died as a result of it.   I'm proud of my Southern heritage, too, but absolutely NOT proud of having fought to defend our right to own people.  And that's exactly what the Rebel Flag represents.
Yeah, when I was a naive kid, I liked being "Johnny Reb" when we'd play "Blue vs Gray".  I think that too many of my southern brethren never grew up from that kind of childhood fantasy.  I hope that they'll at least go see the Lincoln movie and learn from it.
Wisely, most of the southern states that had enshrined the Rebel Flag within their state flags have since redesigned them – most recently the Georgia state flag update in 2001.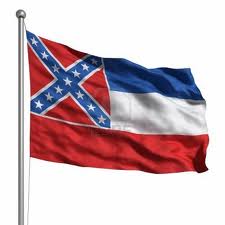 Only Mississippi remains defiantly antagonistic by including it prominently.  South Carolina also remains defiant in displaying the full Rebel flag on the grounds of its state capital.  It also flies it at state college ball games – despite NCAA sanctions to this day.  And in a major regression, many southern state legislatures have allowed the flag to be included on automobile vanity license plates.
Befittingly, a number of local governments – who have to actually face the citizenry directly unlike the glass-house state legislators — have enacted regulations to at least keep the Rebel flag off of the grounds of public facilities.  The most common technique is to establish rules allowing only "official flags" at hosted events.  But rather than let it go, now antagonistic race-baiters are finding excuses to fly the official Mississippi flag at these venues as a loophole.  Can you believe these people?
Puh-leeez.  When I see these people I flash back on the guy yelling into my car window "What are you doing with that NIGGER!" when I was driving back from a lunch break with a coworker back in the day.  That's what I see when I drive down I-95 and see that big Rebel flag beside the highway in Georgia.  And when I see that sticker on the back of the pick-up at the red light.
I see pure ignorance.
No Comments